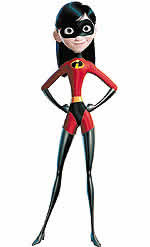 Violet Parr is a 14-year old superheroine, and a founding member of the superheroine team,
The Alliance of Super Girls
, the very same team that
Atomic Betty
is a co-founder of. In the 2004 movie,
The Incredibles
(where she was originally from), she was voiced by Sarah Vowell.
Violet Parr

Real Name

Violet Parr

Age

14

Alignment

Good

From

Metroville, USA

Affiliations

The Incredibles (oldest daughter), The Alliance of Super Girls (co-founder with Atomic Betty)

Powers and Abilities

Invisibility, ability to generate protective forcefields
The Incredibles
Violet Parr 1st appeared in the 2004 movie, The Incredibles , where she was at first a shy, moody teenager with the ability to make herself invisible and generate protective forcefields to protect herself and others. At first, she wanted to be like a normal teenage girl, but overtime, she became more confidant about her self-esteem and embraced her powers without have to being shy and embarassed about having her powers by the end of the film,
The Alliance
When Jessie Jetter, Casey Quickster, and Betty were outnumbered by a quartet of villains that were brought together to take out Casey and Jessie, Violet had to do something. While on a family trip to Corpus Christi (where the battle took place), she had to disguise herself in order to launch a surprise attack on the 4 villains. As Betty and the other two heroes were about to be defeated, one of Violet's forcefields shielded them from the finishing blow, causing the girls to take out the villains. Violet revealed herself to the girls, as she joins in to turn the tide in their favor, knocking out the villains and putting them back in lock-up. With Violet's help, the girls won this battle.
As the girls were prepared to say their final goodbyes to each other, Betty had an idea to prevent future attacks by anymore of their respective villains, so she decided to forge an alliance with one another. Violet agreed to the idea, saying that she wanted to be her own hero and not just the daughter of her famous father, Mr. Incredible. So, Violet jumped at the chance to form the group, and didn't mind the name of the team, The Alliance of Super Girls, despite Betty's objection. Like Betty and Jessie, Violet is often more mature than Casey, and she, along with Betty, is the team's voice of reason.
Violet will appear in 2017 cartoon crossover, Castaras, along with Atomic Betty..with Syndrome has Violet's enemy.
Community content is available under
CC-BY-SA
unless otherwise noted.