While the ASG was forming the KM Series was being made. There are 6 total in the series. They were created by Doctor Mason Roark, who worked on the human g-nome project. Durin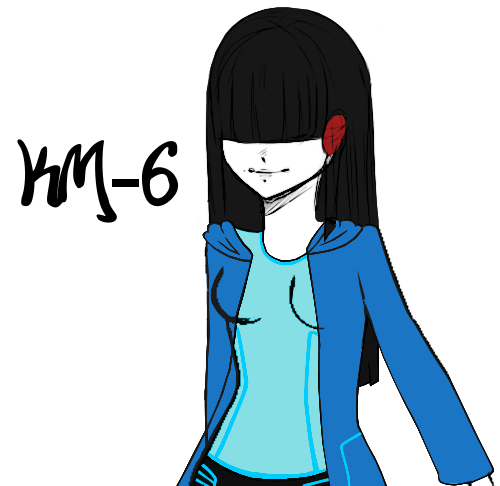 g his time at the government lab he became obsessed with creating the "perfect human", one without flaw. Everyday he would thieve some of the DNA samples from the lab and soon found out that some held special traits that made Super-humans. One night he stole away from the lab and built his own undeground. For months he worked with the DNA he wrongfully aquired and eventually created a clone. He named it KM-1, after the first 2 initials in his mother's name. The clone had great strength and numerous powers, but still was not perfect. For the next year he made 5 more clones, getting closer and closer to his goal each time. When he reached KM-6, he had finally made what he called "a perfect metahuman". Roark trained KM-6 to use her many powers, and others she learned on her own. Roark kept a close eye on the other clones and had them steal and vandalize. When the ASG formed her saw the pictures of the girls on a poster. Seeing Violet Parr he imidiatly thought it was KM-6, being that they appear very alike. Noticing the similarities he had a devious idea. Why not have KM-6 ruin the hero's reputation? So, he ended up sending the girl off to do what ever she could to make Violet hated by all of the universe. It worked well enough until the real Violet escaped and showed up, causeing KM-6 to flee back to Roark's lab. Roark inspected the the marks left by the members of the ASG and repaired them, all the while his anger grew and he swore a silent vendetta on the heroes. Since that time The lesser KM's have committed crimes that have put them face to face with the ASG, each time defeating them and evading capture.
Community content is available under
CC-BY-SA
unless otherwise noted.