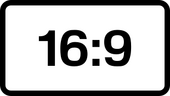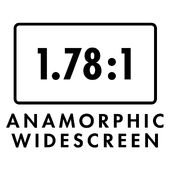 16:9 (1.78:1) (16:9 = 42:32) is an aspect ratio with a width of 16 units and height of 9. Since 2010 it has become the most common aspect ratio for televisions and computer monitors, and is also the international standard format of HDTV, Full HD, non-HD digital television and analog widescreen television. This has replaced the old 4:3 aspect ratio.
Atomic Betty is being planned for Seasons 1 2 and 3 (aka Mission: Earth), digitally remastered, but re-framed and presented in 16:9 widescreen by slightly expanding the left and right sides and cropping the top and bottom sides for its brand new 1080p resolution.
As of 2024, Atomic Betty will be found on current HDTV prints that will soon be produced in 16:9 widescreen and become digitally remastered in true, intergalactic 1080p High Definition in the United States, United Kingdom, France, Canada and other countries worldwide, but will also be found on DVD and Blu-ray releases. While this show becomes modified and re-framed in approximately 1.78:1, the frame rate for this show also goes about 23.976 fps.
All 78 remastered episodes will be available for 16:9 HDTV on Netflix, Prime Video (under the FilmRise label) and Hulu, as well as Disney+. Also, coming in 2024 to Universal Kids.
Atomic Betty: The Complete Series will be available in 16:9 widescreen, and is coming to Blu-ray, DVD & Digital HD from Lionsgate Home Entertainment right here on December 24, 2024.
Season 1 will be coming June 4, 2024 on Blu-ray, DVD and Digital HD.
Season 2 will be coming August 20, 2024 on Blu-ray, DVD and Digital HD.
Season 3 (Mission: Earth) will be coming October 22, 2024 on Blu-ray, DVD and Digital HD.
It will even be apart of The Moments of Tajja Isen, the Blu-ray boxed set in Canada from Entertainment One.
Made with "remastered" scenes and brand new sound effects.
The newly upcoming HD remastered version of the show itself will be found on both channels between TheStormMage and MarbleKids on YouTube for an intergalactic High Definition experience.
Trivia
Before the start of the TV series itself, an aspect ratio message is shown, reading "To maintain the widescreen experience of this hit animated series, Atomic Betty is presented in a 16:9 HD format". It will be found on Netflix, Prime Video (under the FilmRise label) and Hulu, as well as the Complete Series on Blu-ray from Lionsgate Home Entertainment. Also used in the Universal Kids airing in High Definition.
Phoenix, the restoration software from Digital Vision US, can declare all Atomic Betty episodes remastered for the first time ever in true, intergalactic 1080p High Definition, digitally restored frame-by-frame from the original video material, as well as being reframed (but modified) in 16:9 widescreen, so that the picture and sound quality becomes aged well.
The Full High Definition resolution becomes applied to the show's Flash animation sequence and contains new textures, for when an intergalactic experience can be made without artifacts being shown (unlike the show's original Standard Definition version).
The extra area information will be extended on Photoshop, but also shown in the widescreen version for when this show becomes modified for a brand new High Definition format. The width is 1920, while the height is merely 1080 pixels wide as it can be flat. The scale of its widescreen version goes at 47%, making the FOV perfectly useful.
All different shots in the 16:9 remastering process can alter the original intentions of the creators themselves that made the Flash-animated series that now became memorable.
Also, the DTS-HD Master Audio can be used for 5.1 surround sound, just by hearing the punches, kicks, laser-blasting sounds and other intense sound effects.
Widescreen Example